Ted Kenna VC
Edward Ted Kenna VC was born in Hamilton, Vitoria on 6 July 1919. After completing his education he became began work as a plumber. When Australia entered the Second World War, Ted like most men of his generation 'joined up', he signed up in August 1940, initially posted to the 23/31st Battalion, a Victoria based infantry unit which saw service in Darwin and later in Queensland. In 1943 his unit was disbanded and the members were sent to other units as reinforcements. As a reinforcement Ted went into the 2/4th Australian Infantry Unit, which along with Ted sailed to New Guinea in October 1944. It was here in the jungles fighting the Japanese, Ted's life would change forever.
On 15 May 1945, Ted was less than 50 metres from a Japanese machine gun crew, he stood up in full view and continually fired upon the enemy gunner in order to save the lives of his fellow soldiers. As bullets darted between his arms and his body, Ted continued to fire and when his machine gun ran empty called for a rifle to continue his assault.
He shot the gunner dead but was fired upon from a second position as another enemy soldier tried to seize control of the machine gun. Ted remained standing and killed the man with his next round. His bravery allowed his company's attack to succeed and the enemy bunker to be captured. Three weeks later, Ted was shot in the mouth and spent more than a year recovering in hospital where he was nursed by Marjorie Rushberry, who was to become his wife of more than 60 years.
The official citation for the award of the Victoria Cross stated 'There is no doubt that the success of the company attack would have been seriously endangered and many casualties sustained but for Private KENNA's magnificent courage and complete disregard for his own safety. His action was an outstanding example of the highest degree of bravery.'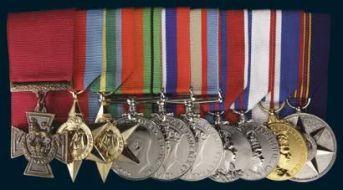 Medal group of Ted Kenna VC
After his discharge from hospital, Ted returned to Hamilton. Proud of their Victoria Cross winner, the people of the Hamilton district raised sufficient funds to build Ted and his wife a house which remains the family home. The Kenna's had four children. After the war he worked with the local council and played Australian Rules football for the local team.
Australia's last surviving Second World War Victoria Cross recipient until passing away (just two days after his 90th Birthday) on 16 July 2009. A state funeral was held in Melbourne a state funeral was held.
In 2012, Kokoda Historical had the privilege of taking Ted's sons to the battlefield where the Victoria Cross was won.
The sons of Ted Kenna VC visiting Wewak in 2012
Edward Kenna