LESLIE C. "BULL" ALLEN, MM, USS
One of the best known images of an Australian soldier in the Pacific War is that of VX12513, Corporal Leslie 'Bull' Allen. Bull Allen was born in 1918, in Ballarat, Victoria. As an orphan, he and his sister would grow up in an orphanage.
By the time the Second World War had broken out, Bull Allen had already been working for nearly a decade. In 1940 at the age of 21, Allen volunteered for service with the Second Australian Imperial Force (AIF).
Posted as reinforcement to the 2/5 Australian Infantry Battalion of the 17 Brigade. Allen would join Battalion in Palestine were they were training and would be made a stretcher-bearer in 'Don' Company.
By the time the above famous image had been taken, Bull Allen along with the 17 Brigade, had seen service in the Middle East, including Libya and Syria. It was during those campaigns that Allen would not only earn his nickname of 'Bull' but also gain a reputation as being 'cool under fire'.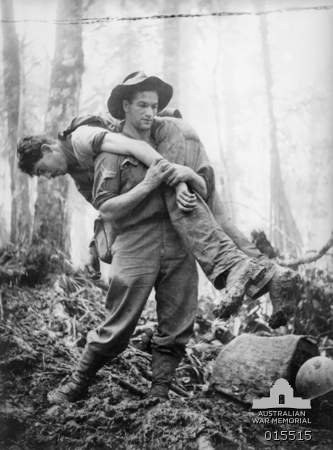 Playing Australian Rugby League in Palestine he would 'charge' towards his opponents. This combined with his towering presence of 5" 11' (180 cm, tall for the time period) his rugged appearance and deep laugh would earn him the nickname 'Bull'. One of his fellow soldiers remarked:
'You could hear him a mile off! Bull was thus one of the battalion's most recognisable…and one of its most popular characters.'
Bull Allen also gained a reputation for having courage under fire. He carried many of his wounded comrades from the field of battle whilst enduring heavy enemy fire.
After fighting, the Italians, French and Germans the next enemy Bull Allen would face was the Japanese in the jungles of New Guinea. The 2/5 Australian Infantry Battalion would end up fighting all of the Kings enemies.
In January 1943, while involved in defensive operations in Wau, Allen would be recognised officially for his brave work as a stretcher-bearer. After carrying out many of his fellow soldiers under intense Japanese fire, he was awarded the Military Medal. The citation, in part reads:
'Private Allen's bearing and his untiring efforts in tending the wounded and helping with rations and stores were an inspiration'.
By 30 July, 1943, Bull Allen would be alongside United States soldiers on Mt Tambu as part of the Wau-Salumua campaign. In the course of the battle, Allen went forward and carried to safety no less than twelve American servicemen. Ballarat historian and friend of the Allen family, Mr David Cranage states:
'Each time he went back for another rescue attempt, soldiers would make bets on whether he would return'.
The American upon Bull Allen's shoulders in the famous photograph was unconscious, having earlier being knocked out by a mortar bomb. During the action two other medics had been killed trying to bring in the wounded. Bull Allen showed now fear and although slightly wounded, his determination and dedication to his job allowed him to undertake the before mentioned feat.
For his heroism at Mount Tambu, he would later receive his second gallantry award, the United States Silver Star.
Although Bull Allen never showed fear in the front of his fellow soldiers, his war service undoubtedly affected him. As early as 1941 the signs were starting to show. Before his service in Syria or Wau, he had been admitted to hospital after his first campaign in Libya, suffering 'anxiety neurosis'. By the time Bull Allen performed his extraordinary feat on Mt Tambu, the experience of war had taken an enormous toll on Bull Allen's health.
Towards the end of 1944, Bull Allen was training with his battalion back in Queensland. It was here that his behaviour came to ahead and after striking an officer, he was court-martial and demoted back to Private. Bull Allen's health continued to deteriorate on top of bouts of malaria he suffered from 'constitutional temperamental instability' with 'anxiety symptoms' his military career soon ended as he was discharged 'medically unfit'.
A week before the action on Mount Tambu, Bull Allen (fifth from left) can be seen briefing his party of stretcher-bearers.
The post-war years may have seen the cessation of fighting but the war inside Bull Allen's head still raged on. Although he married Jean Elizabeth Floyd, a former army nurse in 1949, Bull Allen found it difficult to return to normal life. Bull Allen suffered long periods of post-traumatic stress, on one occasion he was lost the ability to speak for a period of six months.
Bull Allen would see out his years working first as a labourer and then as theatre nurse at Ballarat Base Hospital. With a little piece of land on the outskirts of the town, he raised pigs and broke-in horses. One of his joys in later life was manning the horse drawn quartz crushing stand at the re-created Sovereign Hill gold mining town. Bull Allen was a well-known and popular character around Ballarat.
On many ANZAC Day marches in Melbourne, Bull Allen could be seen carrying the 2/5 Battalion banner along St Kilda Road on route to the Shrine of Remembrance. In 2014 the author showcased the famous image of Bull Allen as part of the Friends of the Shrine program. The powerful image is a powerful reminder of mateship and dedication to duty.
Sadly Bull Allen passed away on 11 May 1982 from complications associated with diabetes. He was survived by his wife, daughter and three sons.
Author, David Howell
Further reading:
D. Dexter, The New Guinea Offensives (1961)
S. Trigellis-Smith, All the King's Enemies (1988)
P.Bradley, Hell's Battlefield (2012)
IN MEMORY OF BULL ALLEN
This short film tells the little-known story of Leslie 'Bull' Allen, brought up in hardship in Ballarat in regional Victoria, to become a courageous, complex war hero. Corporal Leslie 'Bull' Allen was a stretcher bearer in the Australian Army in World War II who showed extraordinary bravery in recovering wounded men during battle. Wind & Sky Productions' micro-documentary tells the story behind the famous photograph of Allen carrying a wounded soldier over his back during the battle of Mt Tambu, New Guinea, in 1943. Allen was never officially recognised in Australia for his actions on that day. Wind & Sky Productions was commissioned by the RSL to tell Allen's story to raise awareness of this complex, almost-forgotten Ballarat war hero.
In Memory of Bull Allen
LESLIE C. "BULL" ALLEN, MM, USS