Shaggy Ridge Trek
$3,850 10 Day Fully Australian Led Tour
Staying at all the Key Locations on the Battlefields
Perhaps you have a family connection, perhaps you have trekked Kokoda and would like to discover another unique part of PNG that is full of beauty and wonder or simply would like to undertake a pilgrimage that immerses you in our proud wartime history. The backdrop of the beautiful, rugged and sometimes harsh terrain of the PNG jungle, the very ground upon which the events of 1943 took place, sets the scene for our master story tellers to bring the voices of our ancestors to life.
Kokoda Historical wants you to get excited about Australian history! We aim to bring to life the many number of ordinary people that became extraordinary heroes of our proud nation. We are talking about the soldiers, civilians and Papuans that were embroiled in the Second World War in the jungles of New Guinea. They are true Australian heroes that stood between tyranny and freedom and-we will remember them.
Our Shaggy Ridge Tour comprises a non-trekking tour of Port Moresby and Lae along with a 6 day circuit trek of Shaggy Ridge and the Faria Valley. We have over a decade of experience in trekking the battlefields of PNG, studying our proud history, interviewing the veterans, serving in the Australian Defence Force and bringing the history to life through innovative methods.
We tailor every trek to ensure where possible that we stay at the key locations on the battlefields. Our standard Shaggy Ridge tour is 1o days which includes the return travel to PNG. This allows enough time to fully appreciate the history and to experience the unique culture of PNG. If you have a group booking of 6 or more people we can adjust the length and the departure/return dates to suit.
Our Shaggy Ridge pilgrimage will have you laughing, crying, leave you wet and muddy but safe & sound and with a lasting legacy of what it means to be an Australian.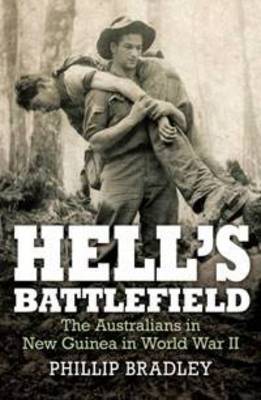 All participants receive a copy of Hell's Battlefield by Phillip Bradley
Shaggy Ridge
Itinerary
Sample Itinerary
Day 1: Arrive Port Moresby-hotel accommodation
Day 2: Fly to Nadzab transfer to Lae, visit Lae War Cemetery, Japanese caves under Mt Lunamen.
Day 3: Visit Mission Hill, Dumpu and on to Onge village, trek to Aginau village.
Day 4: Grassland's to Don's Post, ascend to McCulloch's Ridge past 'Baker's Oven'.
Day 5: Northward bound along Shaggy Ridge-the 'Pimple', Prothero 1 and camp Prothero 2.
Day 6: Descend to Kankiryo Saddle and on to Hill 4100 before Mainstream.
Day 7: Follow Faria River, base of Pailler's Hill then climb King's Hill, camp Onge Village.
Day 8: Return via vehicle back to Lae Hotel and commemorative dinner.
Day 9: Nazdab fly to Port Moresby, visit Bomana War Cemetery. Hotel accommodation.
Day 10: Return to Australia.
Shaggy Ridge Map
Inclusions
Highly experienced Australian Historian
Airfare from Port Moresby to Lae
Airfare from Lae to Port Moresby
2 nights' twin-share hotel accommodation at Lae
Transfer from Nadzab airport to Lae
Group porters for 6-day trek in Shaggy Ridge
Food for 6-day trek
Transfer from Lae to Dumpu
Vehicle for day trip to Mission Hill at Old Kaipit, then on to Dumpu
Personal porter
Communications and safety equipment including Satellite phone
Public Liability Insurance
Exclusions
International airfare to Papua New Guinea (PNG)
Travel visa to PNG
Hotel meals, drinks, phone calls or any other personal expenses
Personal travel insurance
Optional Extras
International airfare to Papua New Guinea (PNG)
Personal travel insurance
Single room surcharge
Optional add-on tours including fishing trips, Lae-Salamaua boat trip or Lae-Finschafen 4WD trip.
More information about these optional extras available in our Online Store.