Meet The Team
David Howell, co-founder of Kokoda Historical
David Howell
Mr David Howell, the co-founder of Kokoda Historical, is a keen historian and spends most of his spare time researching Australian Military History. In particular David specialises in the South West Pacific Area of Operations during the Second World War.
David spent five-years as a volunteer guide with the Friends of Kokoda at the Kokoda Track Memorial Walkway in Concord, including two years as Vice-President of the Friends. David has taken thousands of people around the memorial educating visitors on the significance of the Kokoda Campaign.
David continued his volunteer work as a guide at the Shrine of Remembrance in Melbourne. before taking up a full time appointment at the Shrine. He created and was the editor of the Shrine's history magazine Remembrance and ran the Friends of the Shrine program. In 2015 he returned full-time to Kokoda Historical. He is the current secretary of the 39th Battalion Association.

David is well spoken in Tok Pisin the Pidjin language of PNG and has also served as an infantry soldier in the Australian Army Reserve. In 2008 David was deployed on peacekeeping operations in the Solomon Islands. David has written many articles on Australian Military history and is currently working on the biography of Captain Sam Templeton.
David is married with one daughter and lives on the Mornington Peninsula, Victoria.
Justin O' Mahoney
Justin O''Mahoney
Justin O'Mahoney first walked the Kokoda Track in 2010 where he continued to follow his passion for military history. Serving in the Army Reserve with 49 Royal Queensland Regiment (Bushman's Rifles), Justin followed their story of fighting in the Kokoda Campaign. This has included retracing the Battalion's steps along the Sanananda Road and at the Northern Beachheads. His many visits over the years to Kokoda led him to becoming a guide for Kokoda Historical in 2014.
Justin is a mechanical fitter and farmer in North Queensland where he has lived all his life. He wants to ensure that all trekkers that accompany him to PNG get a sense of the experience that the original Diggers would have endured and ensures as he shares many of the personal of the wonderful and sometimes colourful characters that served during the Second World War.
Greg Mercer
Mr Greg Mercer has served with the Australian Defence Force (Army) with the 3rd Royal Australian Regiment (Parachute Infantry Regiment). Whilst serving with 3RAR) in 2002 Greg was deployed to East Timor as part of Operation Tanager/Citadel on peacekeeping operations. Greg first walked Kokoda in April 2015 with Dave Howell and Kokoda Historical as part of a Veterans awareness campaign on PTSD. The campaign was sponsored and supported by numerous charities and businesses and was a great success.
Greg did something quite extraordinary he got down on one knee next to the mateship pillar and proposed to his now wife Ashlee. Ashlee's great uncle, Colin Dewhurst served in the Papua New Guinea during the war and both Greg and Ashlee had the privilege to represent Colin and wearing his medals at the Dawn Service.
Greg's love of the outdoors had seen him complete numerous other treks both in Australia and around the world; Mt Kosciuszko, Machu Picchu and Rainbow Mountain in Peru, to name a few. Greg's passion and respect for Australian military history along with his own service and experience in the field, makes him a great addition to the Kokoda Historical Team.
Kila Jons
Kila Jons
Mr Kila Amuli lives in the village of Kokoda. Kila has made well over one-hundred successful crossings of the Kokoda Track and has worked as a guide for many of the major tour companies that operate in PNG before forming his own business.

In 2005 he co-founded Kokoda Historical with David Howell. The two of them had met a year prior and it was at the Kokoda Plateau, when David had returned in 2005 with a group of veterans from the Kokoda Track Memorial Walkway. Kila & David came up with the idea to form Kokoda Historical. Kila is both a partner and the head Papuan guide on our Kokoda tours. Kila's grandfather was a Fuzzy Wuzzy Angel who passed on many personal stories to Kila.
Kila has a fantastic understanding of the campaigns history, from the Australian and Papuan perspective. Kila was recently married and has two sons, Anthony and David.
Mr Bruce McClean
Bruce McClean
Mr Bruce McClean first walked the Kokoda Track in 1998. He developed a passion for all things Kokoda when he picked up his first book on the subject which was Peter Brune's newly released book "Those Ragged Bloody Heroes" and read about his uncle, Lieutenant Douglas McClean MC of the 39th Battalion.
Since then he has walked the track many times and in recent years started leading treks for Kokoda Historical.
He has a great sense of wanting to get the correct history as much as possible and hopes to pass on to his fellow travellers some knowledge of the fighting and of the personalities along the track as well as enjoy the company and companionship of a shared adventure.
Bruce also has a passion for all things relating to Australian military history and is an active member of the Creswick Light Horse Troop. Bruce has been a member of the Army Reserve and continues his passion for military history by conducting many public presentations on the subjectt.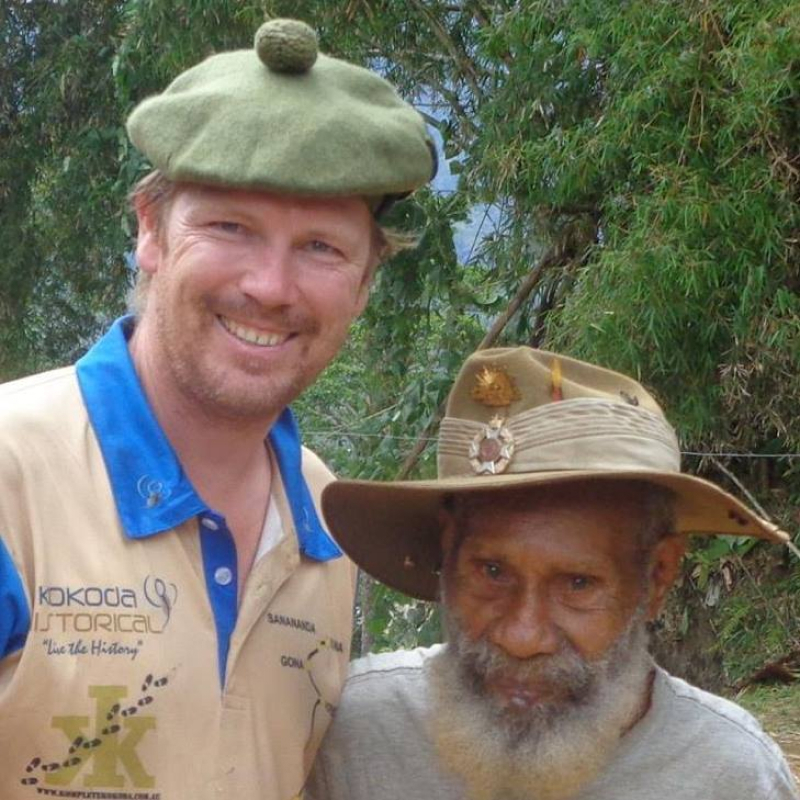 Mr Dean Anderson
Dean Anderson
Mr Dean Anderson has served in the Australian Army Reserve for over 20 years. During his military service he was deployed on peacekeeping operations to the Solomon Islands on Operation Anode as a section commander. He continues to serve in 5/6 Royal Victoria Regiment in Melbourne and is responsible for the training of reserve infantry soldiers. He also recently deployed on Operation Sovereign Borders.
In addition to serving in the military, Dean also has over 12 years service with the Victoria Police. During this time he has been recognised for bravery. He retired from the police force in 2015 to follow a career in teaching in secondary schooling. He is currently undertaking further study in this field.
Dean has a degree in modern history and a keen interest in all things military. His wife's great-uncle is buried in Bomana War Cemetery, having being killed in action whilst serving with the 2/31st Battalion on the Kokoda Track.
With his family connection, understanding of Australian military history and a working knowledge of what it is to be an Australian infantryman, Dean makes a great addition to the Kokoda Historical team.
The Kokoda Guides, The Green Masin (Machine)
All of the guides that walk with our groups come from areas in which we trek/ tour in. For example when we trek Kokoda, all of our boys are from the villages of Kokoda, Hoi, Isurava, Kagi, Efogi and Sanananda just to name a few. The majority of our team have walked the areas pertaining to their locality many times over the years. Their experience and dedication to the safety of our trekkers are second to none.
Kokoda Historical and our partners help to provide our guides and their families with education, health care and employment. Our guides interact as much as they can with our clients and are only to happy to share their knowledge.
In addition to looking after you we also look after our wonderful team the Green Masin (Machine). Here are some of our key concerns when it comes to looking after our staff.
Maximum allowable weight of 18 kg;
Full trek uniform - cap, shirt, shorts, boots
Sleeping bag;
Sleeping mat;
Wholesome meals;
Gratuity equivalent to one day's pay at the end of each trek; and
A 'Walk-Home Allowance' of PNGK250 to allow our guides and carriers to walk back to their villages after each trek if the choose otherwise we fly them home.
We also carry a full medical kit within the carrier team so we look after their specific medical needs along the way.
Last but not least if any of our staff suffer serious illness or injury during the trek, we arrange for them to be evacuated and treated at the Port Moresby Private Hospital - they receive the same care, attention and treatment as you our trekkers do!
Green-Masin
Watch the Green Masin sing their anthem on Youtube!
Kokoda2-Isurava